The media embargo for Star Wars: The Old Republic's beta dropped yesterday, and Massively produced two different impressions pieces summing up the beta, both of them from guys who willingly and happily play themepark MMOs but who have more than once declared their preference for sandboxes. I saw the game about a year ago but was only in the regular beta, so my NDA on what I've seen recently still holds. Still, I can talk about the buzz, and I want to focus on this constant excuse for SWTOR:
"It's not a sandbox."
And what SWTOR die-hards mean when they say "it's not a sandbox" is this: "The game was designed as a themepark, not a sandbox, so sandbox fans' complaints about the lack of sandbox elements are biased and invalid. In fact, you shouldn't even let a sandbox fan review the game." It's not a sandbox, it's not a sandbox, it's not a sandbox, they say, holding it up like a talisman to protect BioWare from criticism. I call bullpucky!
I could understand the argument if, say, we were complaining that a teapot isn't a very good window. The teapot wasn't designed to be a window; it has nothing to do with windows. The idea is absurd.
But that's not what the sandbox vs. themepark debate is about. Paul points out that this is really an open vs. closed smartphone debate. He reminds me that niche, high-end sportscars deliberately omit features we might consider basic and necessary — like air conditioning — so that they can do one thing (go fast) as well as possible. We certainly wouldn't say that makes such a sportscar less of a car, but then again, unlike that sportscar, SWTOR isn't being marketed as a niche product. It's being marketed as WoW's successor, the next big thing in the genre. If the next Honda Accord rolled out with no air conditioning, I don't think we'd be amused.
I've come to think the whole "sandbox elements" concept is a sham, a construct of companies and their apologists pushing MMOs with increasingly limited feature sets. If those companies can convince you that certain complex and difficult-to-implement game mechanics are "just for sandboxes," then those companies can be excused from including them.
And that just feeds into the false dichotomy. Forget sandboxes and themeparks — there's only MMOs and the stuff that goes into MMOs. There's a spectrum of MMO features. Either your game has certain features or it doesn't. So potential players are absolutely correct to complain when your MMO lacks features considered standard in so many other MMOs. If you've chosen to exclude open-world housing, free-form flight, custom storytelling, intense crafting, player-generated content, non-combat professions, a player-run economy, and unique character development, you deserve criticism for those very intentional design choices. You can't just wave it away by redefining "real" MMOs as things that conveniently happen to omit the same features you do. And every time you suggest that sandbox fans can't adequately review a themepark game, you're suggesting that people who like things in their game can't possibly understand a game with no things, which is just a fancy way of admitting your neglect.
And that's silly — who defines his own product by what it lacks? We don't call a sportscar "that car that doesn't have air conditioning"; it stands out by being "that car that goes fast and looks hot doing it." When you call your game a themepark and then define themeparks as games that lack sandbox elements, we all know what you're really up to. Deep down, players know that themeparks really have no features to call their own — even some sandboxes have linear, quest-driven content!
"It's not a sandbox" really means "this game is purposely minimalist and lacking in multiple areas; take it or leave it." Some of us will take it on its own terms (like I will — my preorder is still intact, for now), but let's do away with the pretense. "Themepark" is neither a compliment nor an excuse. It's an admission of limitation.
Oh yeah, and while I'm thinking about it, BioWare?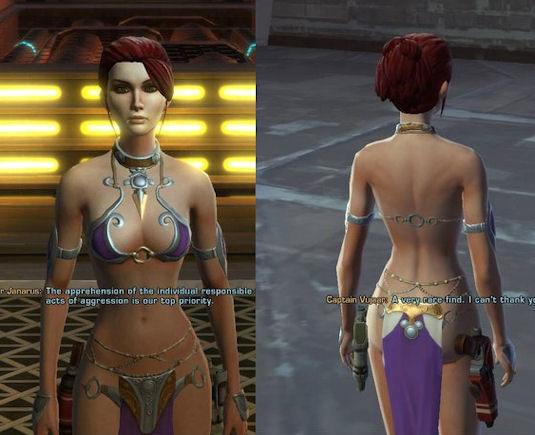 Stay classy.