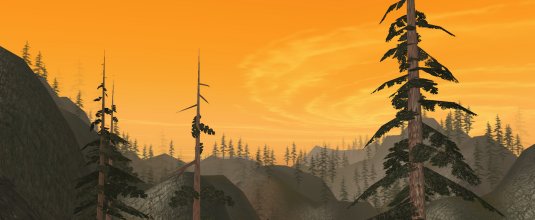 Massively's Mike Foster coined this lovely phrase last week.
"EVE Online offers me many opportunities to engage [a] sense of curiosity and my love for 'horizon gaming,' which is my term for playing just to see what comes next," he wrote.
Not for gear. Not for levels. Not for ganks. Not for socializing or achievements or a fat gold purse. Just to see what would happen.
The same week, Massively's Justin Olivetti expressed similar emotion over RIFT's increasing reliance on level grinds and what he has come to see as "the burden of leveling": "I'd love to go through zones more out of a desire to see what's over the next ridge than a sense of obligation to my XP bar."
Most themepark MMOs, like RIFT, don't give us these options, and if they do, they don't reward us much or at all for pursuing them. Exploration isn't an activity in and of itself; it's a means to a cheap achievement medal and something you do by accident while farming herbs and making your way to the next quest hub.
Sandbox MMOs, including Mike's idealized version of EVE, also don't truly reward exploration. They aren't in the business of rewarding anything, specifically. A sandbox doesn't care what you do as long as you do something. It is indifferent to your cravings for structure. Go do whatever. Entertain thyself. It's like when mom used to say only boring people are bored. (Or was that just my mom?)
You could argue that a sandbox rewards socializing, since people who are good at socializing will tend to rise to the top of sandboxes. But that's an indirect mechanism, and it's certainly possible to succeed in a sandbox without being social. I've done it.
There it is: the word "succeed." It's the problem and the solution. I consider myself to have been a "success" in the sandbox of Star Wars Galaxies, in the later years after all of my friends had long since left. I was extravagantly wealthy, owned many beautiful buildings, ran profitable businesses, and acquired enough elite resources to craft anything in the game. I considered myself a success because I achieved what I set out to achieve and had fun doing it.
And yet a PvPer would consider me a miserable failure!
Sandboxes let us define success for ourselves. You might approach a themepark like RIFT and decide to become the game's sharpest trade baron, but the game doesn't really care. It has its own way of measuring success: levels and gear. Becoming a trade baron won't help you with these things on any useful scale. In fact, becoming a trade baron in a themepark means you'll be spending time on something other than leveling up and scoring gear. There's an opportunity cost to going against the grain; it's actually counterproductive to define the terms of your own success there.
The downside of defining your own success in a sandbox is that it's possible to set your personal bar too low. Whenever I returned to Star Wars Galaxies after a period away, I went through a few weeks of glowy honeymoon as I unpacked all my houses and hired my vendors and put all my factories to work churning out crates of food and armor. And once I had my little world set up, I fell into a routine of checking harvesters and flipping factories and restocking, a dangerous routine because I grew bored unless I forced myself to look for something to do outside of my comfort zone. Only boring people are bored. I know, mom.
A themepark is less susceptible to the "routine trap" prior to endgame. It's constantly nudging you to keep moving, to go to new places to try out new quest lines. But once you've burned through all of that, you're done. There's nothing else to do but keep riding the same rides. You can't suddenly decide that your food catering business on Tatooine is nice and all, but you'd really like a massive career shift, so you're going to join the Rebel Alliance and shoot some player stormtroopers right in the face.
Last month, I wrote a little tiny post about gamehoppers and tourists and the disdain with which gamers regard them. I don't have any bitterness for gamehoppers, not anymore. We're not hopping for hopping's sake; we're just looking for something. We're hunting for that feeling again, that feeling of gaming on our own terms. We've ridden all the rides in a themepark and had the fun someone else laid out for us, and it was good but it's over. Now we want to make our own fun. It's not just nostlagia that drives us; we want to see the horizon again.
But I'm not sure the studios re-embracing sandboxes understand that. The reawakened buzz for "emergent gameplay" and SOE's "the players are the content" catchphrase make me terribly nervous. They remind me far too much of the sinister side of social media and search engines and the "if you can't tell what the product is, you are the product" maxim. No, players aren't content. Players can create content, but they aren't content. They're customers and participants, no matter the structure of the world. I don't want to see players employed as commodities like quests or studios designing sandboxes as themeparks with player-generated toolsets instead of quests. That's a type of sandbox, sure — a sandbox with thousands of tiny themeparks in it.
Not one of them with a horizon to coax me onward.