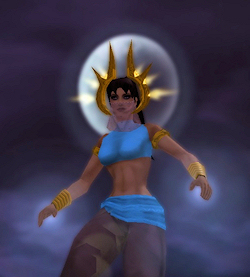 Am I cursed?
It seems as if every game I've really fallen in love with in the last few years is being killed off, one by one, even the teeny-tiny ones like Zentia. Go ahead and laugh, but I still feel the loss of Star Wars Galaxies deeply, and my main consolation when it happened last year is that at least I'd have City of Heroes to fall back on and lessen the sting of losing a virtual home. Joke's on me: City of Heroes has just been handed its pink slip.
The worst part is that SWG and CoH were true innovators in a market filled with washed-up World of Warcraft clones. City of Heroes pioneered mechanics like cosmetic gear, sidekicking, dungeon scaling, and player-generated content in an MMO space that previously had mostly just parroted level-treadmill EverQuest. Even if you agree that CoH's engine, animations, and character models were starting to age, you can't deny what the game brought to the genre.
The obvious comparison leaps out at me: It's widely accepted that Lucasarts raised the IP license fee for Star Wars Galaxies so high that SOE was forced to shut it down, paving the way for SWTOR to reign over the Star Wars MMO kingdom. (Never mind that SWTOR has performed so poorly that it has retained only around a quarter of its subs, instituted massive layoffs, and plans to go F2P to stay competitive.) With Guild Wars 2 less than a week old, we'd be fools not to wonder whether NCsoft is simply culling American-born City of Heroes because it's not worth the presumably small profit it generated next to giants like GW2 that sell a million copies before launch. (And CoH did make money, if braggadocio about super pack sales is to be believed.) [Update: Several bloggers have pulled profit estimates in the $6-10mil/year range from NCsoft's legalese, proving it was no WoW, which we already knew, but profit is profit.] [Another update: An apparently reliable internal source confirmed profits were $10mil a year and that VIP subs were sitting pretty at 100k.]
I'm apparently in the minority, but sunsets like these stay my hand when it comes to investing money and time into other F2P games. NCsoft, after all, is known for putting games to the torch when the profit's too small; Tabula Rasa comes first to mind. I suppose Aion and Guild Wars 1 loyalists ought to start making their final farewells, too. If the revamped MMO lifespan is going to be only a few years, I see no reason to spend lavishly on them in the short term since the short term is all they're giving me. I'm better off putting that money into a single-player game that no one can take away on a whim.
Frustratingly, the CoH sunset casts a black shadow over Guild Wars 2, which I was enjoying and will review in September, and NCsoft's WildStar, which tops my very short list of unfinished MMOs that I can't wait to play. I'm so angry at NCsoft right now that I just don't even want to look at Guild Wars 2, especially when I know that the company's already got my money, so my logging out in protest accomplishes absolutely nothing except keep me from a great game I paid for half a year ago. Bad form, NCsoft. Very bad form.
If it's not a curse, I have to wonder, maybe I'm just old and out of touch. I don't think that's it, though I'm sure I can find some spoiled 20-year-old male FPS fan to tell me it's true. I like weird games, and I love sandboxes, but I also enjoy themeparks like WoW, and I'm just as much a snob about assembly-line F2P imports as the next gamer. I've been playing games for a very long time (my first MMO was UO at launch, after all); I read and write about hundreds of titles for a living, and I like that broad perspective. I'm not anyone's target demographic, and I kinda like it that way.
But I'm not happy about what that perspective is showing me. If this is the new face of the MMO genre — if profitable, creative games like City of Heroes are going to be trampled by knock-offs and single-player travesties, and games like Warhammer Online are going to limp along forever — then maybe I don't want to be an MMO gamer anymore.
Or maybe I just need to start googling for a CoH emulator.
[Want to help save the City? Join the efforts at Titan Network and sign the petition.]