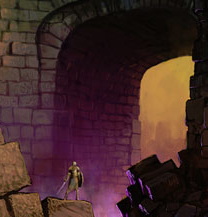 Guild Wars owns a permanent position in my top three MMOs of all time. It's group-friendly and solo-friendly; it's all about lateral advancement; and it's one of a few MMOs employing my favorite pay model. So of course I'm watching Guild Wars 2's development with great interest. And yet nearly every GW2 announcement from "high level cap" to "open world" has disappointed me, none so much as the recent devblog on combat mechanics.
ArenaNet's stated goals for GW2's combat mechanics are primarily to eliminate the following:
Group LF Healer/Tank; party wipes when you lose the wrong person; watching the interface instead of the world; playing with people because you have to, not because you want to; being stuck in the same combat patterns over and over again.
I don't want to dwell too long on this since it was discussed to death months ago when ArenaNet first declared anathema on healers, but the reassurance that every class can play a support role doesn't feel like much assurance at all when I know how very many people really enjoy playing healers and tanks. I certainly don't want to play a game in which everyone but healers and tanks is paralyzed, left out of groups, and consigned to perpetual soloing (hi, WoW), nor do I want to play a game in which healers and tanks are reliant on those groups, being incapable of soloing themselves. But I am concerned that GW2 is undermining the fun and importance of these sorts of roles, relegating them to the equivalents of emergency off-specs when an encounter goes horribly wrong. I don't really fancy class homogenization, nor do I fancy yet another game in which hybrids rule the day. True flexibility should include both the hyperactive person who changes specializations every three seconds and the person whose roleplay concept demands he never change his role or style at all.
Besides, I'm not entirely sure why the archaic trinity (tank, healer, cc) or the modern one (swap dps for cc) needed an overhaul. It's always seemed like a natural evolution of class-based systems (like them or hate them), not an artificial system that demanded renovation. I may poke fun at it, but the modern MMO champion, WoW, seems to be doing just fine with its array of available classes and specs for each role. The class system has its problems, but at least it allows for easier balancing. GW2's system seems to aim somewhere between a skill system and a class system while solving the developer problems of neither and creating a game in which there will still be A Best Lineup for every encounter. Do people really believe we'll not get stuck in the same combat patterns over and over again? Players will figure out that four people healing for this boss are best, or that a Guardian tanks this encounter the best, and those are exactly the characters that will be brought along, the specs that will be demanded, never mind that you really prefer to play an Earth Elementalist for every fight and aren't really interested in doing a very un-Guild-Wars thing by attuning mid-battle to save your group from a wipe.
But those are old fears. Consider also these quotes:
"There are no skills that specifically target allies. Everything must be done using positioning, ground targeting or other unconventional methods. This keeps every profession focused on [its] allies in the world, which adds a tactical complexity to the combat. Instead of watching red bars, we want you [sic] to watch your allies in the world. Making sure you are dropping ground-targeted spells effectively and moving into position to block attacks on allies is how we want players to defend each other [sic]. […] It takes a lot of pressure off of the skill system and puts in back into movement, tactical play, and ground control — the areas where we wanted the game to be focused. Couple that with dodging arrows and double tap dodge rolling and you create a combat system that is more like a first person shooter where finding real cover, flanking and other more realistic fighting techniques find a lot more use."
People are leaping for joy about this, but hell… I've been around the block a few times. I've seen combat like this fail more than once because the developers have misunderstood why things are done the way things are done by other studios.
Let's start with the UI, or rather, Anet's de-emphasis of the UI in combat. The UI in modern MMOs isn't some annoying accident that needs to be purged by our saviors at Anet. UIs were added after many years and many MMOs failed to provide adequate ones. For years, Ultima Online had no party frames (nor parties nor hotkey bars, for that matter) — after all, why would you need them when you can just cast your heals directly on the player avatar in the world? Wouldn't that be so much more immersive?? EverQuest's party frames were about an inch long, and healers had to click on them to heal — there were no convenient macros. Fast-forward to today when in a game like WoW you can make use of thousands of addons to make healing not just a simple matter of one-step mouse-clicking but actually fun. Do I really want to go back to an era when the devs thought "fun" was hunting down and clicking on avatars that are behind you, above you, or on the other side of that mob? No. Those things were added to help players out, not to ruin their day. Don't reinvent the wheel without good cause. It's a good wheel, developed over a decade through trial and error. New isn't better; old isn't better. Better is better.
What about the ground-targeted spells? Well, these aren't new either. What's the most annoying part of City of Heroes' combat? Ground-targeted spells. There's no way to macro them to center on you; there's no way to macro them to center on your target or nearest enemy or tank. They require multiple clicks, and they're irritating. While combat might look smooth to everyone else, ground-targeted spells break up the flow for the person actually playing the game. From my perspective, Anet are going out of their way to make combat more annoying and twitchy, to make voice chat more essential, to make coordination more difficult. How are these good things?
Focusing on FPS-style tactical combat rather than skill selection has also been done. Age of Conan and Champions Online loudly bragged about their engaging reactive combat systems. They were both pretty dull and twitchy while still being remarkably cumbersome. Pre-NGE Star Wars Galaxies did away with common mechanics like taunting and aggro-management while asking the player to dodge and kneel and lie prone to maximize his shot, all of which contributed to a confusing, unwieldy, and unpredictable combat experience. Later in its life, SWG abandoned that system for one much more action-based and FPSy and twitchy and clicky — one hated by actual players. And lest we forget: Even the ancient Asheron's Call employed a sort of rudimentary reactive combat system that allowed the player to moderate a ratio of power and speed for his attacks. All of these things have been done before. Outside of FPS games, they don't play well. Latency is a problem. Player reaction time is a problem. Communication is a problem. Buttons and skills help equalize players and smooth over a lot of those rough spots. There's a reason good and modern MMOs use them: accessibility.
I really want to love GW2. In fact, I suspect that if it's as good as classic Guild Wars, I might be playing it long after I've bored of SWTOR, its only real rival outside of WoW. That's precisely why I want it to be awesome. The combat might work out just fine in the end. Maybe all the hype is just fluff and promises to get people excited; maybe the devs don't really mean to sound half again as retrograde as they do progressive. But in the pre-launch haze, I can't get rid of the unsettling feeling that Anet are missing the point. Blizzard aren't king of MMOs because they went back to 1997 and repurposed some archaic UI-lite FPS but because they took the best parts of second-gen MMOs and polished them to death. Shouldn't Anet take third-gen MMOs and do the same?