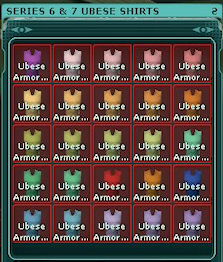 Anyone who knows me knows I love sandboxes. There's something about an interactive simulation that's a lot more engaging and replayable than yet another scripted themepark. And one of the best aspects of the best sandboxes is a strong player economy. The economy game is basically PvP for smart people. No — observant people. It's as much about anticipation and reaction as combat PvP, but it's not instant — it's thoughtful. Eventually, it becomes instinctive, but it's never twitch. It's based on your personal skills as a player, not your connection, and not your gear.
But there's never been a perfect MMO economy, not even the one monitored and meddled in by a professional economist. Inflation… inflation is the enemy. At some point in time, perhaps half a year or more into the lifetime of the game, the amount of money flowing into the game via quest rewards and monster drops far exceeds the amount of money being drained out of the economy. In other words, there aren't enough gold sinks for the gold coming from the gold faucet. Slowly but surely, money becomes worth less and less, and the more player-driven the economy, the worse the situation for players new to the sandbox, because the amount of money they can squeeze from the faucets pales in comparison to the huge stocks of "old money" being traded between wealthy players.
And while that might be fair and necessary for real life, it's terrible game design — at least, if you care about player retention. I'd like to talk about a few games and how they approach (or fail to approach, to their own doom) this problem.
Star Wars Galaxies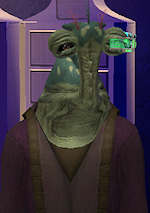 Inflation has struck the worlds of SWG upside the face with a two-by-four, and SOE has utterly failed to prevent or even attempt to slow it down. Initially, the gold sinks imposed upon players were sufficient to keep the pace of inflation very slow, especially during the first two years of the game. Player cities were extremely expensive to maintain in that early era; mission payouts were very low; and costs of housing, skill training, harvester maintenance, and death kept players cycling money out of the game. A balance of item decay, limited resources, and expensive crafting ensured the money already in the economy changed hands frequently.
Unfortunately, years and years of increasing mission payouts and the addition of lootable items that are salable to junk dealer NPCs for cash (while players are AFK, no less) have created vast sums of credits that are not being drained out of the game. The gold sinks have remained constant and are now trivial, such that even a poor player can maintain an entire metropolis alone. The Starsider server is particularly stricken as a result of free character transfers that saw (according to some estimates) 40% of the total SWG playerbase take up residence there, bringing their piles of cash along with them. Worse, parts of the economy suffer stagflation as certain industries have too many participants and not enough demand, keeping the prices of some goods — even consumable goods — even with the prices of 2004 (food crafting is one such industry) in spite of the fact that players have billions more credits to spend. The triviality of money ensures that players are not incentivized to change careers in the pursuit of credits; crafters "craft to craft" as hobbyists, not for profit. Ironically, this is the only thing that allows newcomers to the sandbox to participate — player-made goods like armor, weapons, and consumables are artificially cheap and affordable, which would not normally be true in a merely inflated economy.
As much as I adore SWG, SOE has created a worst-case scenario MMO economy and seems deaf to pleas to fix it. Easy suggestions to drain money from the economy: allow players to purchase TCG cards with credits from SOE; increase the cost of housing, maintenance, and player cities by significant amounts (I'd start at a billion a year for a metro); and introduce additional luxuries like titles, badges, houses, ships, and so forth, purchaseable from SOE for exorbitant prices.
Ultima Online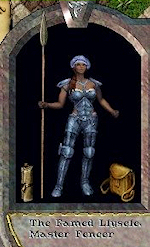 Ultima Online is another riches-to-rags game design example. It began in 1997 as a strong hybrid economy. Monsters dropped both gold coins and loot; NPCs purchased many items from players, and yet they also sold critical items to players, expensive items like magical reagents and housing deeds. Because the early game was driven by PvP and player looting, most players gravitated toward using items they could afford to lose, i.e., player-crafted goods like armor, weapons, potions, scrolls, and so forth. Much like SWG, UO had enough sinks to ensure inflation was slow indeed, and gameplay ensured that crafters were forever in demand.
If you thought I was going to blame the economic downfall of UO on Trammel (the non-PvP facet of the game), you're wholly mistaken. In fact, it was the Age of Shadows expansion in 2003 that shook UO's economy to its core. Known as the "diabloification" of UO, AoS transformed the game from a skill-based one to an item-based one. It added armor that made magical reagents unnecessary (taking out a major gold sink); it added named, mob-dropped artifacts that rendered most crafted items obsolete; and it added insurance and repair systems that ensured players would never lose or need new gear. Instead of sending money and resources out of the economy through the original sinks, players began hoarding their money and trading it only to each other in ever-larger sums for the rare artifacts that made them powerful enough to take on monsters they were never meant to fight alone, bringing still more money into the economy and creating runaway inflation. In 2009, the game introduced a new skill called Imbuing, which again tipped the balance of power toward crafters, but the damage was done. The game is nearly unapproachable for new or returning players as the amount of money they can squeeze from the faucet is paltry compared to the funds needed to buy a single piece of gear.
Sandboxes aren't the only games that suffer economic inflation, but strangely, in my experience sandparks and themeparks weather it better. Let's look at a few examples.
Guild Wars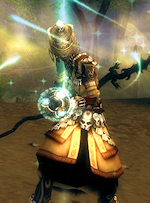 Guild Wars has suffered inflation, it's true, but ArenaNet hasn't ever stopped fighting it. The game is unusual in that it has remained wholly skill-based throughout its history. Power-creep is sharply curbed; acquiring a "perfect" weapon and "max" armor is roughly as cheap today as it was when the game launched in 2005 and remains impressively accessible for new or poor players. How is it achieved? Guild Wars' unusual crafting system is a pure but consistent money sink. Players "salvage" (destroy) dropped items in return for resources or buy those resources at heavily marked-up prices through NPC brokers (a net goldsink), then players submit these resources and money to NPC crafters, who deliver the requested armor and weapons. The crafters can also fashion luxury armors for wealthy players; these elite armors do not provide any additional bonuses over those worn by poorbies, but they drain vast sums of money out of the economy (usually in the range of 50 plat to well over 1000 plat, depending on the armor). Additional sinks include skill purchases, which quickly rise to 1 plat apiece, and guild halls, which can run a new guild over 500 plat to trick out.
At one point, legitimate and illegitimate farming for money to pay for these elite cosmetic armors was so extreme that ArenaNet decided the only course of action was to reduce the amount of gold entering the game, cutting it back to up to 1/8th of the previous gold flow for solo players. Players were furious, probably rightly so, as it hurt newbies in the short-term and did little to dent the vast gold resources of the already-rich. Years later, inflation still afflicts Guild Wars, but it is primarily seen in the market for the very highest-end weapon skins, minipets, and armor resources like ectos and rubies (in fact, many players use the valuable ectos and rubies as currency as a result of the account money-caps, driving up the price of those rarest resources). This has been exacerbated artificially in some respects due to the Hall of Monuments system, which aims to reward future Guild Wars 2 players based on their Guild Wars accomplishments by counting such things as the number of minipets they secure and the number of elite armor sets and weapons they acquire. There is very little demand for regular items, and the lack of an adequate mechanism for trade certainly hinders everyone, but for the most part, newcomers are not crippled in their pursuit of top-stat items and can compete in PvP as soon as they purchase or unlock sufficient skills.
City of Heroes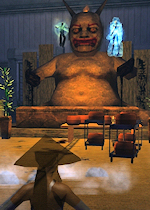 Paragon Studios has been tweaking the City's economy for years, taking a drastic move in 2010 to merge the auction houses across all factions and servers. Consequently, all of the players participate in one giant shared economy, even though they're split physically on different shards. City of Heroes eschews many MMO tropes and therefore avoids some of the common problems. Costumes (including weapons) and buffs are relatively cheap and do not affect a character's power. Powers themselves are earned freely as the character levels. Customization comes in the form of enhancements (SOs), which were originally dropped from enemies and purchased from NPCs, the latter of which provided a large gold sink for the game, as did expenses associated with supergroups and costume resets.
But as the game aged, Paragon decided to inject more depth into the game with a new crafting system, one that created an entirely new tier of enhancements (IOs) crafted by players with materials and recipes gathered as drops, through trade, via missions, and from NPCs. More money was funneled into the game than taken out as a result of this system, and old gold sinks like SOs were neutered as players stopped purchasing them in favor of the new crafted IOs. After a few years (and a dozen farming exploits), inflation plagued the game, sending the auction hall prices for some rare recipes into the billions of Inf. Because SOs and non-set IOs still exist and are adequate for even high-end play, newcomers to the game are not crippled significantly. In fact, they can make a considerable amount of money simply by playing the game and the market, selling to the wealthy players themselves. Nevertheless, just as in Guild Wars, CoH's highest-end markets are inflated and cannot be fixed if Paragon does not add massive new gold sinks to the endgame.
World of Warcraft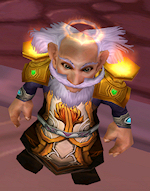 WoW is the themeparkiest of the games I mean to consider here. Blizzard started out by heavily limiting the amount of gold coming into the economy and imposing strict money sinks, especially for mounts (anyone who played the first few months of the game can recall how relatively expensive were the level-40 mounts). But with subsequent expansions, money-creep as well as power-creep became huge problems. The Burning Crusade and Wrath of the Lich King expansions notoriously showered players in huge amounts of gold via quest rewards, and unfortunately for the economy, the additional tiers of new mounts provided scant sinks for all of that gold (even 4,000 gold in BC became an insignificant amount to drop, as did 20,000 in WotLK). Blizzard rightly shifted its sink-focus to luxuries for highbies and reduced these sinks for lowbie characters, surmising correctly that most of the money circulating in the game is generated in between expansions while characters are bored at the level-cap, something newcomers would not encounter.
Consequently, newbie players are generally unaffected by the economy while they're leveling to 85 — most earn enough money to purchase their non-luxury riding abilities while simply playing through the content. However, the lack of sufficient sinks for high-end players even today drives the value of gold down and the price of the only (relatively) limited resource in the game — crafted goods and materials — ever skyward, keeping most casual players out of the market and encouraging a thriving yet illegal RMT network.
Conclusion
Like other forms of PvP, player economies are frequently neglected and left to stagnate and die at the hands of inflation, which is entirely the fault of poor game design and maintenance. The only way to combat the problem is to continuously monitor and adjust faucets and sinks as patches are implemented, games age, and players join and leave the economy. Unfortunately, high staff turnover on most of these MMOs and a lack of training in economics ensure that something so important to a game's health is ignored and left for devs hired too late in the game's life to fix the problem at its source without upsetting a playerbase accustomed to money-creep.
Interestingly, while sandbox and themepark and hybrid games all suffer from inflation, sandbox games — the ones in which the player economy is most critical — seem most prone to being incapacitated by age and design flaws. Themepark games seem to navigate (though not solve) the problem by creating two separate tiers of economy — an entry-level tier (primarily designed around NPC interaction) that ensures lowbies and poorbies can play the game with little contact with the second tier, the one in which inflation directly affects the prices of the items being traded between the endgame players. GW, CoH, and WoW all feature this (probably unintentional) two-tiered system; UO lacks it completely and suffers tremendously because of it. And SWG employs a two-tiered system only in the combat/themepark parts of the game; the sandbox parts (crafting, decor, TCG) that are the primary selling point of a sandbox are deeply affected by inflation, though not as crushingly as in UO.
While there's nothing players can do to prevent or stop the seemingly inevitable decay of aging player economies, they can at least be aware which games are hardest hit and how to minimize the frustration of trying to compete in a neglected game where the inmates are running the asylum.