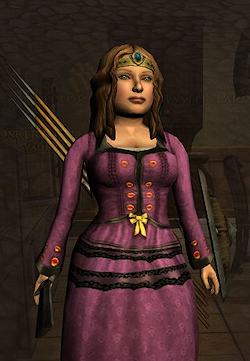 Lord of the Rings Online is one of my favorite MMOs. Hobbits rule. I love my pony; I love farming (real farming) and crafting dyes and weapons and food things that actually sell on the auction hall. I have a lovely house at 1 Wending Way, Pearbridge, The Shire. I counseled Frodo and took a screenshot of my character dancing with Arwen. The game had its annoying combat quirks and grinds and slowdowns, and Moria is one of the worst zones in any MMO ever, but overall, it's always been a comforting world to experience for a few months a year.
In fact, I very much wanted LotRO to go F2P and was wholly unsurprised when it did so last year, given Turbine's earlier freemium conversion of Dungeons and Dragons Online, a conversion that likely saved the game from an early and unfortunate demise.
But I regret that wish because LotRO suffered deeply from its switchover. I don't mean the game became a financial loss for Turbine; it did not. But like many Western games that "go free-to-play," LotRO was over-monetized to the point of ludicrousness, to the point that I no longer find it a comforting retreat but rather a flashing neon advertisement of tawdriness. Let's not fuss over whether Tolkien himself would approve (he would not); let's just consider whether we do.
The majority of freemium games are Eastern, not Western. They are frequently designed to be respectably decent games first, then a cash shop is layered in to sell perks and luxuries and shortcuts. Generally, an MMO like Zentia can be played in full for no cost. Freebie players will rarely notice their disadvantages, but players with disposable income will buy stacks of materials, costumes, mounts, and experience potions to make more of the time they spend "working" while playing. Barring exceptions like Russian-born Allods Online, Eastern F2P MMOs are fairly predictable in this regard.
But in the West, freemium games focus only on the money. That might seem a foolish comment; obviously, MMOs are a money-making business, and these companies would be doing a disservice to their stockholders if they neglected their directives. What I mean is that the game design process itself becomes compromised in the quest to monetize a game. It's a subtle difference, monetization vs. profit. But whether the game is designed freemium at the start like Free Realms or becomes freemium later in its life like LotRO, the game itself suffers when the developers focus on how they can monetize little pieces of the game. The game becomes a bunch of little fragmented pieces rather than a grand, coherent vision of a game that's good enough to sell boxes and subscriptions as the sum of its parts. The MMOs, as a result, are very small and narrow because their developers thought only "what bits can I make that I can sell" and "what can I charge for this bit" rather than "this bit is nifty and will be part of a great game that will sell."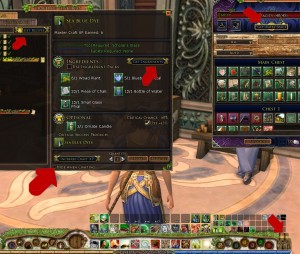 LotRO is greatly affected by this. Its pieces were broken down and priced individually, just as were later additions, and very little care was taken to integrate the cash shop into the game experience. The player is confronted with splash screens advertising the cash shop the instant he logs into the game. There's an enormous cash-shop button attached to the main hotbar. Quests award tiny and therefore useless amounts of Turbine Points, serving only as a constant reminder that hey, you should go buy something, and have you seen the cash shop yet? Because you totally should.
The prices themselves are problematic. Turbine has cut the costs of some salable items due to player feedback, but even the sales are yet another way for the company to remind the player that the cash shop exists and prey on our very human fear of missing out on a good deal. These are admittedly incredibly primitive marketing tricks, but I resent their being used on me in a game I enjoyed because of its original subdued and woebegone tone. I can appreciate Little House on the Prairie and the Vegas strip for what they are, but I don't really want those experiences merged, and in many ways, I miss the simplicity and honesty of a flat subscription fee. I never felt marketed to when I just paid that flat fee. Subscriptions have their own problems, especially double-dippers, but "breaking my immersions" has never been one of them.
Neither is paying twice for the same content. Even those who purchased the original boxed game at full price must re-purchase the world zones (specifically, the quests therein) piecemeal. That remains one of the most egregiously greedy and unconscionable decisions I've ever seen in an MMO. When I consider games like LotRO, DDO, Free Realms, and even EQ2X, I can only wonder whether their parent companies truly understood how the classic freemium model works — that it's normal for the majority of players to decline to become customers. These companies clung to their subscriptions and designed the freemium parts of their games only to hook players into subscribing to the "real" game rather than to exist as solid standalone games endearing enough in their own right to encourage repeat luxury purchases rather than obligatory expenditures.
And that problem shows up not just in marketing but in the game itself when poor game design becomes another method of revenue generation. Instead of reducing the tedious and unwelcome virtue and trait grind, Turbine made virtues and traits buyable with cash. Instead of speeding up horse routes, Turbine took them away from non-subscribers and placed startlingly high fees on them for a la carte players. Dyes, food, potions, and tools are purchasable, allowing players to bypass the crafting market within the game.
I could not bear to let go my home in Pearbridge, so every few weeks it drains a bit more of my gold. But neither can I bear to fork over to rebuy zones and get back to the grind. I was willing to pay $15 a month to farm and market and dabble before, but it's actually even less palatable now that it's free. The commercialization of such an antique and mythological gameworld just makes me sad, and the company's very act of pricing things individually — its double-dipping as a matter of course — makes me think only in terms of value, not entertainment.
I once wished that Turbine would next take Asheron's Call free-to-play, but knowing what I know now, I think I'll just hold my tongue.