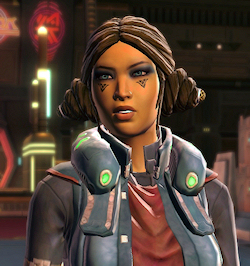 But then I took an arrow in the knee. In fact, it was Star Wars Galaxies that urged me to rise above dabbling in thees and thous and transformed me into a smart-ass, quick-thinking pirate queen. I never broke character in spatial chat. Every toon had an elaborate backstory. My guild founded a roleplaying metropolis. I stayed up until the crack of dawn because I couldn't bear to leave the scene of some amazing emergent storytelling session. It's really hard to explain to people who didn't experience it just how gripping that RP scene was.
And yet not one game since SWG has made me care so much or try so hard, and it's not because SWG was my first love — I'd been playing MMOs for almost six years before SWG even launched.
I've talked before about the things that we, as gamers and inheritors of the MMO genre, have lost with the passing of Star Wars Galaxies. My colleagues at Massively have done the same. But none of us really touched on free-form roleplaying as one of SWG's highlights. That wasn't something the game itself provided, and roleplaying won't die forever without SWG; people roleplay en masse even in World of Warcraft. But they're hemmed in by rules and regulations, by the game mechanics and the lore. I couldn't adjust to it. Roleplay in post-SWG games like World of Warcraft, Warhammer, and even City of Heroes felt flat, contrived, and stale to me, and I started wondering why someone who had once considered herself a hardcore roleplayer was suddenly turning away from it, even looking down on other roleplayers with disdain. Was I, to borrow a term from Matt Daniel, becoming a roleplay snob?
First I stopped roleplaying in public. Then I stopped writing stories, then character outlines, then guild lore. In recent games, I've just plunged in without any RP preparation at all, not even a name. Why bother, I thought. None of it matters anyway. RP is ephemera. The game contradicts everything I plan. The game doesn't care about me enough to let me do my own thing.
That's when I realized that what SWG provided so uniquely wasn't its space flight, player cities, or storyteller system at all. Above all else, SWG provided freedom, even in its NGE form, and losing that freedom has become my arrow in the knee.
Star Wars: The Old Republic lacks that freedom and makes no apologies for it. This is our story, BioWare says, so you had best enjoy it. As one of the Massively commenters joked, BioWare is known for telling a great story — "the same story, over and over." Bloggers are particularly hard on the role of story in SWTOR, and maybe the studio deserves the criticism.
But for the first time in a long time, I'm roleplaying again.
I'm not sitting in a cantina until 4 a.m. arguing philosophy, gambling, or singing, as I did in SWG. There are people in cantinas doing these things; it's hard not to overhear their slow and plodding and usually amateur attempts at dialogue (which isn't to say that they're any worse than BioWare's storytellers). I pass them by. Even to them, I'm a level 23 mostly Light-side-aligned Female Mirialan Smuggler Scoundrel Scrapper with the same origin story as every other Smuggler, the same ship, the same companions, even the same love life. The good RPers will pretend they don't know that, but they do. There's no mystery. A "dancer" in SWG's Mos Eisley cantina could be anything skill-wise — an Imperial spy, a bounty hunter, or even an actual dancer. Her backstory was whatever she said it was, and her skills were masked. By contrast, TOR contradicts your character design. Roleplaying there requires an additional level of suspension of disbelief, even above what is necessary in a basic RPG setting. First accept the setting, then reject parts of it, and try to keep it all straight. That isn't fun.
What is fun is what I'm going to start calling rolepursuing. I didn't really design the role my Smuggler is playing in the SWTOR story context, but I can certainly pursue a role within the mechanics provided, far better than in any other themepark I've sampled. I'm finding it enjoyable. I'm not a fan of the specific alignment dichotomy as BioWare's implemented it, but it's been relatively easy to play a Han Solo-esque rogue with a heart of gold alongside Paul's play-by-the-rules Commando. Having him as an audience helps, and for our amusement, I go out of my way to choose snarky responses to the situations with which we're presented. Oddly, I don't miss sitting in a cantina to eke out 10 minutes of RP per 60 minutes of gametime, not when I can roleplay — well, rolepursue — all the time.
It turns out that I miss having the freedom of SWG more than what I actually did with that freedom. SWTOR isn't SWG, not by far, but it sure beats moping in a tavern with the other old-timers, moaning about the arrow in my knee.